Immersive Showcase Classroom
An active learning space that encourages students to use mobile devices in conjunction with team-based learning activities to solve challenging problems and engage in hands-on collaboration
Location: University Hall, AD1000 (IUPUI)
In the news
IUPUI launches high-tech Immersive Showcase Classroom
A new, technology-rich Immersive Showcase Classroom unveiled at IUPUI is helping faculty create an innovative educational experience for students. Learn more >>
A new alternative
IUPUI's Immersive Showcase Classroom is in a class all its own. This alternative to the traditional learning space supports many types of collaborative instruction, including team-based and problem-based learning.
Key features
Interactive touch video wall
This 2x4 video wall uses Mersive Solstice software to foster collaboration, decision making, and content sharing via any mobile device.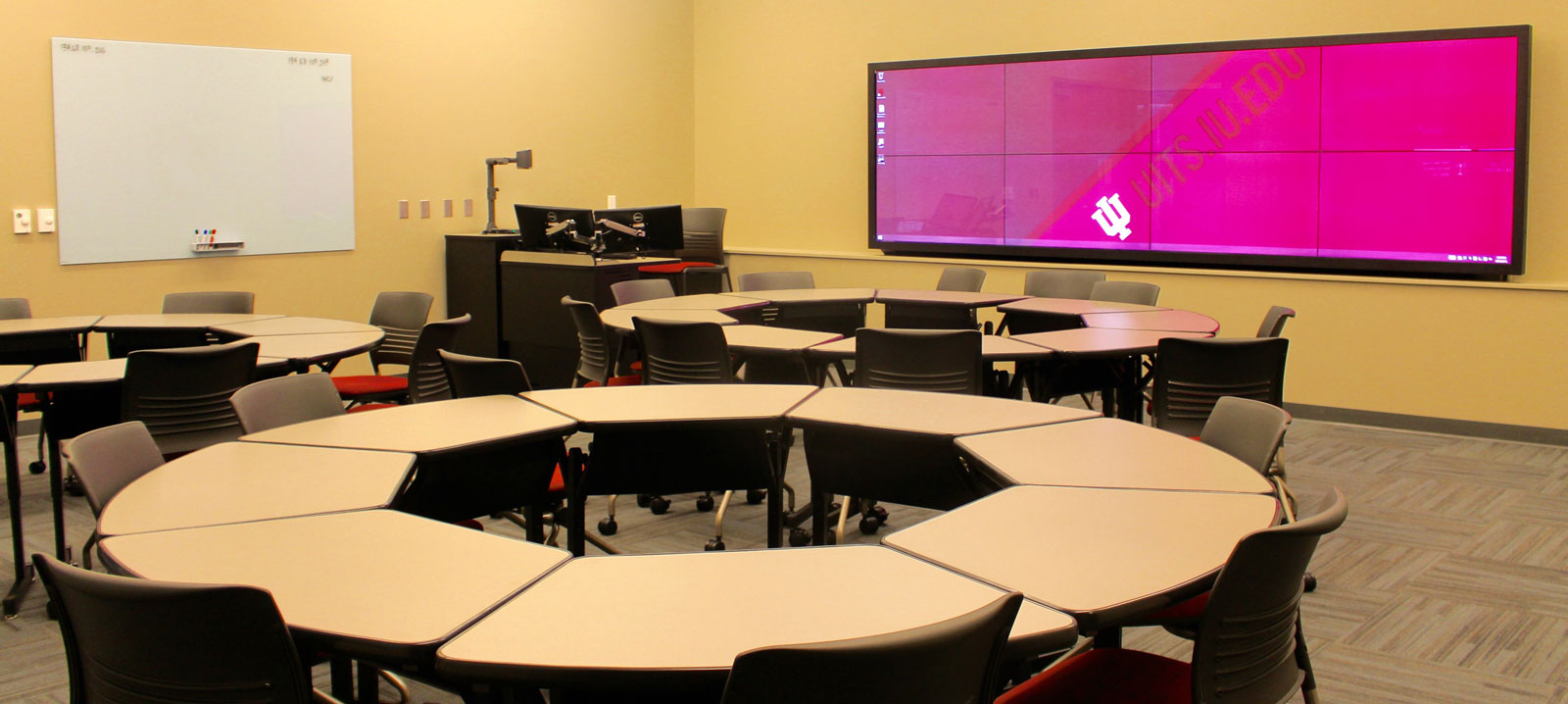 Benefits:
Students can instantly connect to, share, and control the display
Instructors can interact with and share content
Simultaneous image annotation and sharing
Secondary 70" interactive panel for instructor or breakout use
Student collaboration areas
These areas encourage group brainstorming with strategically placed glass whiteboards. After students collaborate, they can take pictures with their mobile devices and share them wirelessly on the video wall.
Request assignment to the Collaborative Learning Studio
Classes that meet combinations of the following criteria will receive priority:

Clear plans for implementing collaborative, active learning approaches as central components of the course
Agreement to attend a course development workshop and/or work with a Center for Teaching and Learning consultant
Agreement to participate in research about the effectiveness of these spaces for enhancing active learning and student success
Visit the Learning Spaces request form to reserve this classroom.
Support
For more information on Active Learning Classrooms
Julie Johnston
Director of Learning Spaces
Indiana University
jbohnenk@iu.edu
(317) 274-3482