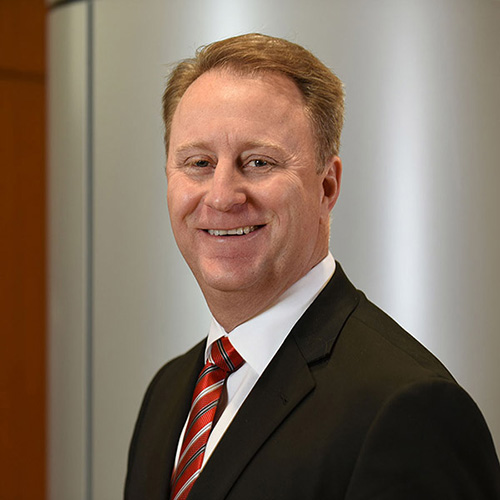 Rob Lowden
Vice President for Information Technology and CIO
Office of the Vice President of Information Technology and CIO
As vice president for information technology and chief information officer, Rob Lowden sets comprehensive IT strategy and leads IT services, infrastructure, cybersecurity, and research efforts across the university.
In his previous role as executive associate dean and CIO for the IU School of Medicine, Lowden led IT strategy for the largest medical school in the United States. Prior to this, he served as IU's associate vice president of enterprise systems, during which he led adoption of IU's course management system, implemented two-factor authentication across IU, and led the development of the Decision Support Initiative to provide IU leaders with access to timely, accurate data to inform better decision-making.
He has held multiple IT and leadership roles at IU dating back to 1998. In addition, Lowden served as interim executive director of Unizin, a membership-based consortium of large research institutions dedicated to improving learner experiences with digital teaching and learning resources.
Lowden is a first-generation college graduate and earned a Master of Science in Technology degree and a Bachelor of Science in Computer Technology degree, both from Purdue University. Lowden served in the United States Navy in roles including Ceremonial Guard member in Washington D.C., search and rescue swimmer in Pearl Harbor, Hawaii, and communications specialist in the Nimitz Battlegroup in Southeast Asia, ultimately earning an honorable discharge for his service.
Publications
Presentations
OmniSOC Annual Conference Keynote 2020
IU Statewide IT Keynote, 2020 IU Statewide IT 2019
Unizin Summit Orlando 2018
MOR Associates Leadership Conference Presentation Bloomington 2017
Kuali Days Annual Conference Presentation San Diego 2016
Educause Face-to-Face Annual Conference Presentation Anaheim 2016
Indiana Digital Government Conference Presentation Indianapolis 2016 2010
Alliance Conference Presentation Nashville 2015
Tableau Drive Conference Presentation Bellevue 2015
Symplicity Client Conference Presentation Washington D.C. 2015
Kuali Days United Kingdom Presentation London 2014
Kuali Days South Africa Conference Presentation Cape Town 2014
Educause Face-to-Face Annual Conference Anaheim 2013
Kuali Days Annual Conference Presentation San Diego 2013
EDUCAUSE Enterprise Illinois 2011
EDUCAUSE half-day cloud computing seminar California 2010
Gartner CIO Leadership Summit Keynote Phoenix 2010
Burton Group Europe and North America Presentation Prague/San Diego 2010
Sakai Conference Paris 2008
Sakai Conference Amsterdam 2007
National Leadership
Indiana Executive Council on Cybersecurity 2020–present
Fortinet Customer Advisory Board 2020–present
Hitachi Vantara Advisory Board Member 2018–present
Unizin Ltd. Ex-officio Board Member 2017–present
Higher Education Advisory Board Member Hyland 2017–2018
Advisory Board Member Indiana Digital Summit 2016, 2017
Kuali Core Board Chair 2016–2017
Advisory Board Member Kelley Institute for Business Analytics 2013–2015
Awards
IU Bicentennial Medal 2020
ComputerWorld Honors Laureate Recipient Washington, D.C. 2009
ComputerWorld Honors Laureate Recipient Washington, D.C. 2008
The Building Community Award IUPUI 1999